A long day of cleaning the dungeon of my beautiful Owner Mistress LUNA comes to an end!! My Goddess comes home from a photo shooting looking gorgeous as always wearing a white blouse, corset and a super tight leggings!! She walks towards me and two quick faceslaps show me my place after forgetting to kneel down and kiss her boots welcome!! "Nevertheless you did a good work cleaning slaveboy as a reward you are allowed to worship me when i relax in a more comfortable outfit after shooting all day! Waiting position until i return little pig"!!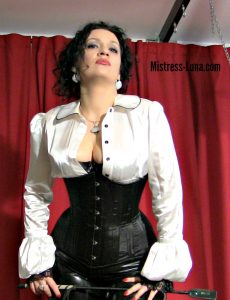 10 minutes of waiting later my Owner returns in a comfortable but amazing teasing outfit!! Red stilettos a perfect shining black pantyhose and a red and black top perfect playing with her curves!! My cock fights against his chastity belt within a second without a chance!! Sitting on a red chair Mistress LUNA commands me to start worshipping her heels kiss them and suck her stilettos intensively!!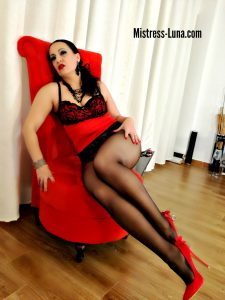 -"Okay slaveboy put of my shoes and start kissing and sucking my feet and toes!! Do a good job they feel sweaty after wearing boots all day!!" The smell of my Mistress feets arouses me what a reward kneeling there gagged by her nylons!! Mistress is satisfied with my work, deeper and deeper she shoves her feet into my mouth!!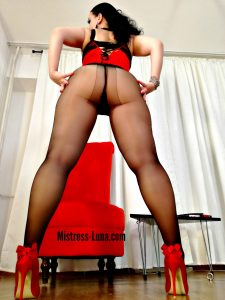 -"Okay enough pig, you deserve to kiss and worship my ankles up to my perfect thighs" Goddess tells me as she stands up, turning her curvy back in my direction!! I am in heaven start kissing her ankles up to her thighs only centimetres away from her perfect nylon butt and suddenly my hood makes a fine whole into the nylons and destroys them!!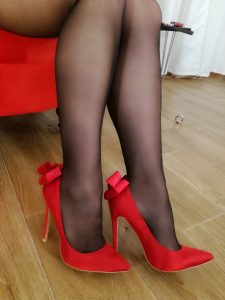 Mistress LUNA gets very angry and after 10 hard faceslaps she forces me in my small black cage for punishment and ties my hands with leather cuffs tight to the cage!! "-Instead of having a relaxed evening you now have to learn what it means to disappoint Mistress stupid pig!!" With this words she leaves the room!! I am bound encaged and alone waiting for my punishment!!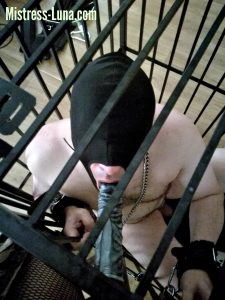 30 minutes later Mistress LUNA returns in a perfect teasing outfit for me!! Ultratight leggings overknee boots a corset and a bra barely hiding her beautiful breasts!! She knows that arouses me in a second!! But what does she wear around her hips?? I can only recognize a big strapon before she takes my head and forces the cock trough the cage deep in my mouth!! "-I decided to speed up your training stupid pig and tonight i gonna make you my cock sucking and receiving bitch!!" I am shocked as we didn't do this before and i have only little experience taking a strapon!! I have to put a condom over the cock with my mouth then Mistress takes me out of the cage!! She ties my hands at my back tightly with the cuffs, also my legs are tied up before i have to lean forward over a silver couch!!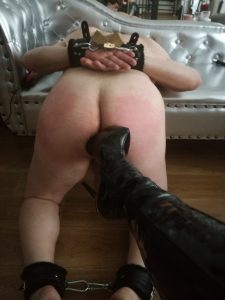 "-Time to train your ass fucktoy" i hear my Mistress say!! After putting some liquid gel on my back she starts to force a plug in my ass using her boots!! Bigger and bigger the plugs get i cry in pain and lust never had this feeling before!! Then the big moment my Owner takes me the first time from behind, starting to fuck me with her big strapon!! For several minutes i am pegged from behind recognizing Mistress LUNA gets more and more aroused from the cock stimulating her fucking me hard!!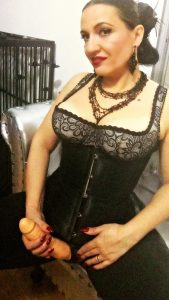 After some time Mistress LUNA is satisfied destroying my ass and puts away the strapon!! She throws me to the ground on my back and walks towards me with an evil smile on her face and a roll of duct tape in her hands!! "-Time to use pigs face for my pleasure and orgasm" Mistress says starting to wrap the tape dozens of time around my face!!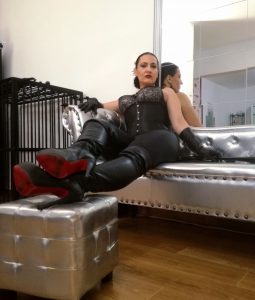 Then she sits on my face wrapping her luscious round ass around my face and nose starting to ride it!! Only seconds in between she lets me gasp for air what a perfect torment i am in heaven!! With a loud cry Goddess arrives orgasm and immediately starts to open my chastity getting my cock out of it!! Suddenly i feel nylons around my cock!! "-These are my damaged nylons slave and now i use them to milk your cock" i cant believe what i am hearing what a wonderful reward after punishment and two weeks in chastity!! After short time i am too aroused and i am ready to cum but in the perfect moment Mistress LUNA stops touching my cock ruining my orgasm completely!! She starts laughing out loud as i try to struggle under her ass muffling in my gag!! "-You stupid pig really believed to earn a real orgasm after destroying my nylons"??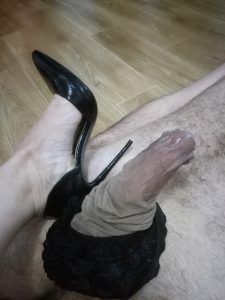 She puts away the cum drenched nylons from my cock and ties them tightly over my gagged face!! My cock is forced in chastity again and i am put into my cage!! "-Listen good slut today was only the beginning of your life as cock sucking pig!! Tomorrow all my girlfriends will come by and i will sell you to one of them for a week!! The highest bid can use you the way she wants and with the money your Owner can buy new nylons and luxury articles!! Have fun this night!!" With this words Goddess LUNA leaves the room and i am looking forward being sold for money and used by her girlfriends!! What a perfect life!!