My dear buyers, followers and admirers!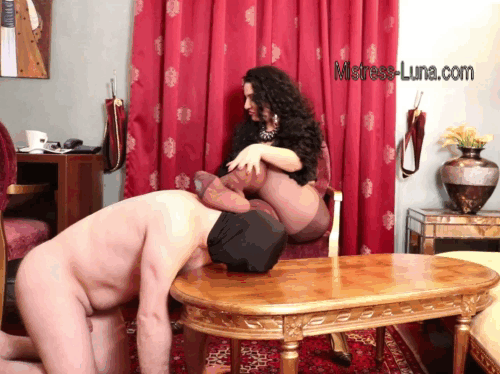 First of all, I want to say thank you to all of you! Thank you for buying my clips and support me in this journey I have just started one month a go !
Probably many of you, knew already, that Domination is my life style and all my clips are ,,genuine,, sequences from it! Accordingly, my clips may loose some time from technical qualities but I assure you that everything is ,,happened,, in the clips, is the reality of my life : I am not using actors, I am not even using scenarios ! The males appear in My clips are My real life submissive and sometime, even Me I don't know what I am going to do in the film : I know I have the slave and I want use him but that all ! I hope you appreciate this and please don't forget : My clips are amateur clips, yes, but about Pro Life Style Domina !
I consider My self blessed because I am not making a ,,profession,, from Domination, but a Life Style and of course everyone of you know, that buying My clips is providing with important resource for My life style !
My experience in BDSM is very well build – I have about 18 years of experience but in selling clips I am somehow ,,novice,, although, I love doing the clips, filming My life style and share it with you!
Although My name Mistress Luna is well know, I am new here and it take time to make Me more visible in the first 50 Studios, as I believe I deserve due My experience !
Now there is a Spring Campaign in Clip4sale and I will really appreciate if you sustain Me in it! All you have to do, is to buy My clips trough the indicated link here:
https://www.clips4sale.com/studio/123081/Mistress-Luna#cidf78d73a0dc0decfed561554788
The Campaign last for 3 month !
I promise you will have new clip everyday and to motivate you a bit, especially those of you who are willing to worship Me , I decide to award the first 3 persons who buy most clips from My shop during the Campaign.
The reward will be:
place 1 will receive one hour video-chat with Me and a pair of My worn pantyhose or panties ( as he choose)

place 2 will receive one hour video-chat with Me

place 3 will receive half hour video-chat with Me

All you have to do is to buy My clips using the link :

Also I need you send Me by email your initials or name as used in here, so I can identify you at the end of campaign, for the reward !

At the end, but not less important: I am open to your suggestion regarding filming, or desired scenarios or just simply feedback from you!

Tank you again and don't forget:

Buying My clips is the best way to enter in My space and catch My attention !

Buy My clips using the link :

https://www.clips4sale.com/studio/123081/Mistress-Luna#cidf78d73a0dc0decfed561554788
Follow, obey, worship -Mistress Luna