Saturday evening! I am standing chained to the wall in my new homea big cage in the dungeon of my Owner Mistress LUNA! My Goddess walks in the room sitting in front of my cage in a casual outfit because she just returned from shopping the whole afternoon. "Listen good slave, i will go to a fetishparty with my Dommefriends tonight and i bought an outfit for this party in town. Sadly, the boots are not shiny enough so i need your tongue to make them extra shiny". With this words she opens the cage and pulls me out. Some faceslaps remind me that i forgot to go into waiting position immediately. "This way you stay here while i am changing for the party, and dont dare to move".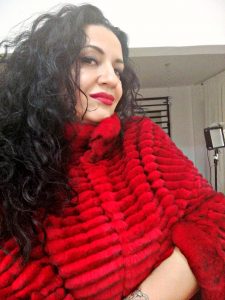 After some time my Goddess returns walking to the red chair in the corner and sits down.
"Head up slave i allow you to watch my party outfit"
. I am flashed from the outfit of Goddess LUNA! She wears a black corset with a matching bra, a fur jacket and an extra tight shiny wetlook leggings. The overknee boots are looking like a second leather skin on her perfect legs. My cock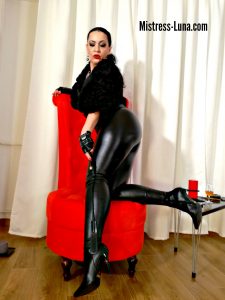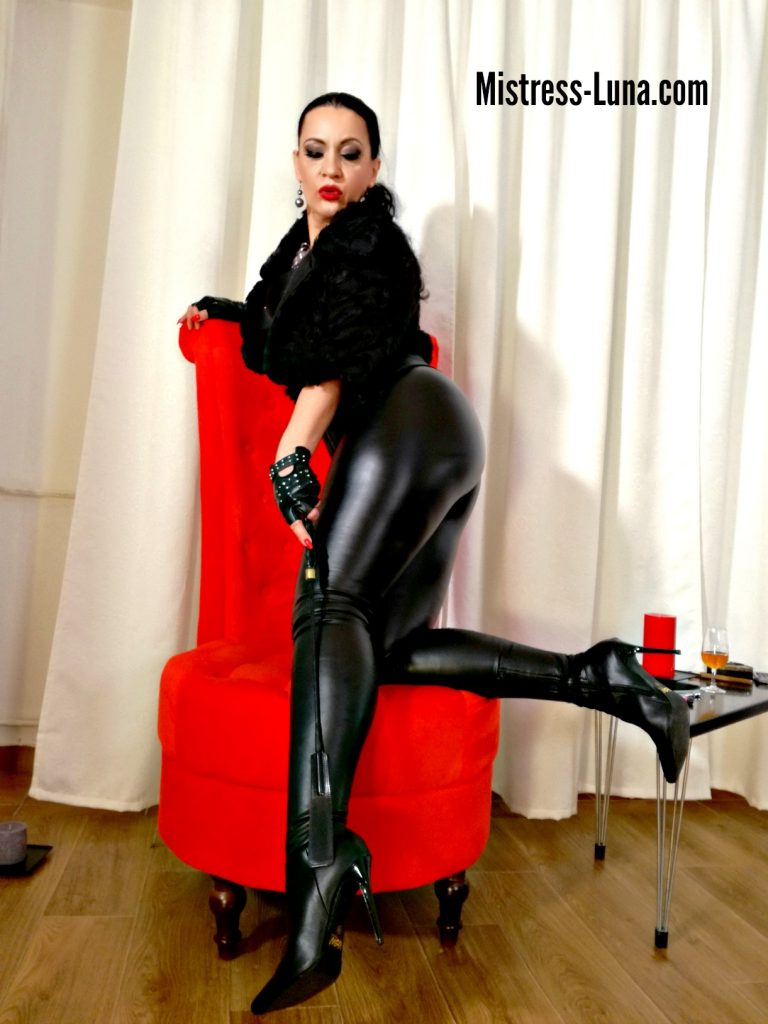 starts to fight against my chastity belt for sure without a chance.
"Crawl to me slaveboy you know your job while i am enjoying a cigarette"
. I crawl to my Mistress and start kissing and licking her wonderful boots to make them shinny an honor for a little worm like me. 15 minutes i have to lick each boot clean and shinny and after this time my Goddess seems to be satisfied with my work.
"Well done chris, as a reward i allow you to kiss and worship my tight leggings bottom"
.
With this words Mistress LUNA turns around and presses my face into her ass cheeks. What a wonderful reward for me i start kissing and licking and even my Mistress seems to enjoy the situation and gets aroused.
"Stop slaveboy i want to make the situation more arousing for me"!
I have to lay down on the floor on my back and my Goddess ties my hands with a leatherstrap to the wall, the same with my feet. After blindfolding me with a leather mask she leaves the room, to come back a minute later.
"Open your mouth slaveboy"
with these words she spits several times in my mouth, how wonderful to drink the spit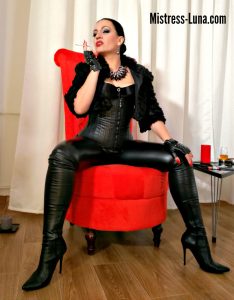 of my Owner. I want to say thank you for that treatment but as i open my mouth something silky is stuffed in it very deep. Before i know what is happening i hear the sound of microfoam tape and Mistress LUNA tapes my mouth shut with several layers.
"My driver is coming in 15 minutes, so i have enough time to use my slaves face and doxy to get a nice orgasm" she tells me. Seconds later my face is covered by the leggings sanctum and ass of my wonderful Mistress and she starts rubbing and riding my face. After some minutes i hear the sound of her doxy starting and within 3 minutes Mistress LUNA gets an enormous orgasm. She gives me a kiss on my gagged mouth and as the doorbell rings she says to me!"You did a good job today chris as a reward you stay here in heavy bondage, gagged with my worn panty from shopping today. When i come home i will use you several times the same way like now maybe together with some dommefriends of mine. Have fun little slaveboy". After that she leaves the dungeon and i have to stay there bound, gagged and aroused waiting for my Mistress using me after the party.
What a wonderful life i got!!!