The pictures from this article can be find in the gallery Personal servant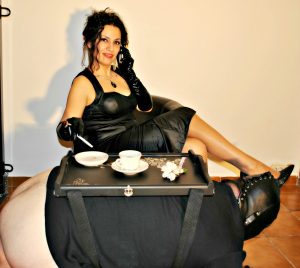 In the 4 years break from BDSM scene, I had the time and necessary mood to return to an oldest hobby of mine, namely, hand making decorations, small pieces of furniture, jewellery boxes and so on, with various techniques combined with manual painting.
This hobby of mine has brought me many satisfaction and appreciation,and currently, the hobby turned into a small business in which I put lot of soul!
Being a person who likes to pamper herself, I got the idea to create trays for serving in bed.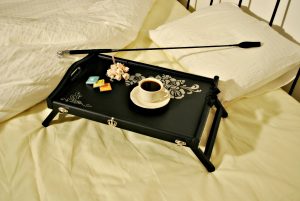 They are practical and aesthetic and can be the perfect gift for anyone!
How BDSM is a lifestyle for me, it was natural that these two aspects of my life to meet at a point.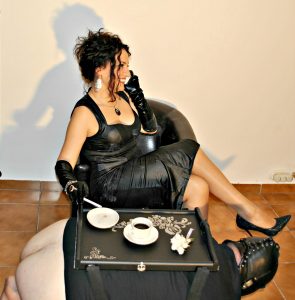 So I added the classic trays, some accessories (straps and buckles) so they can be used in BDSM sessions with slaves who like to take the role of servant, maid, human furniture etc.
Used on slaves, the trays can be fasten in 2 positions:
1.In the upright position when slave is standing up or on his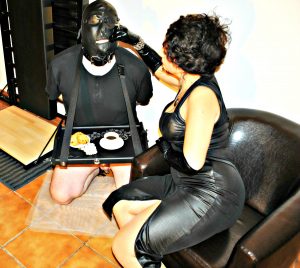 knees. In this position, the tray can be easily and quickly attach and adjust so there is no need to sustain from the slave hands (slave hands can be tied back).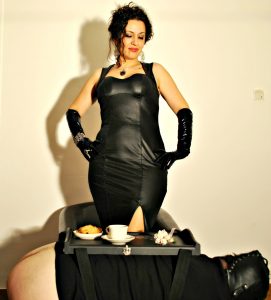 2.Horizontal, attached to the back of the slave when she sits on all fours, turning into a human table very practical and easy to use.
If you do not want to use tray on slave, then simply remove the straps. In this way, one can have breakfast in bed or coffee directly from the tray.
Trays accessorized with belts, can be a great gift for both the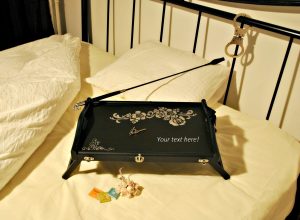 Mistress and their dungeons or BDSM establishments and can be customized on request with the name, or any text that suits you!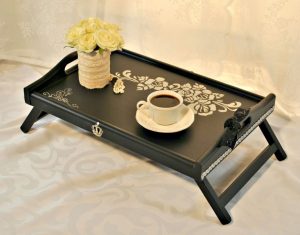 Also, you can order these trays, with out belts to make them gift to someone dear.
All trays are exclusively handmade by Me, Mistress Luna. For more models visit the gallery Mistress Luna's creations

They are made from high-quality wood and paints and varnishes are of superior quality and environmentally friendly, water based.
Absolutely any type of trays, can be customized and accessorize with belts and buckles set to be used in BDSM sessions.
If there is any special desire, you can ask me and together find solutions to translate your idea into reality. I am open to suggestions!!
The trays prices vary between 85 and 125 euros each, according to the complexity for their realization and the cost of accessories that accompany them.
Delivery fees is not included!
I created several models of trays for serving in bed, and to present them to you I open the section: Mistress Luna's creations where will regularly upload new models of trays, so you will have from where to choose the perfect gift for your Mistress, or to any person you love.
Besides these trays serving in bed, I like to make jewellery boxes, boxes for storing tea and so on ..
And these can be customized and made gift!
Want to make a gift to that special someone? Choose one of the trays for serving the bed: unique, 100% handmade, aesthetic and practical and in this way you also contribute to the welfare of Mine, Mistress Luna.
Thank you!
Mistress Luna